How to use Streaming Audio Recorder Plus?
This tutorial shows you how to to use Steaming Audio Recorder step by step. Just follow the steps below and get started to experience all the features of Streaming Audio Recorder Plus.
Part 1: How to install Streaming Audio Recorder
1.Download Streaming Audio Recorder program
2.Choose the destination and save, then find the .exe file and double click it to install.
3.Accept the license agreement.
4.Select the drive folder where you want to install the program.
5.Click the install button and wait to complete the installing progress.
Part 2: How to record streaming audio
After you have installed the Streaming Audio Recorder program, please open the application and then get started to your work for recording the audio what you hear on your computer.
Note: Before recording audio with Streaming Audio Recorder you must do the following things:
A. Internet connection is fine
B. Web browser is open
C. An audio/video stream is accessed
Then, follow the next steps:
1. Find the online audio stream you want to record and hit the record icon without leaving the web page.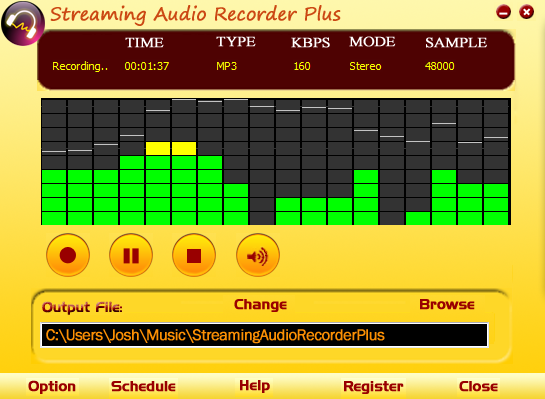 2. During recording process, you can leave the audio stream page and this action will not affect recording. Therefore, you can surf Internet or do other things freely.
3.When recording job has done, the record button becomes the stop button and save the file to mp3 format automatically in the default directory.